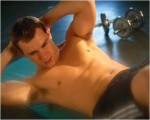 Tweet Everyone wants a tighter tummy.
Guys want a six-pack… ladies want a slim, firm waistline… and yes, some want a six-pack too.
Why be sexist? ; )
So needless to say people are freaked out to find that I train my abs in about 3 minutes.
Total.
Here's how:
7 and 14-Minute workouts . . . → Read More: HDT: Better Abs In 3 Minutes?